Unable to Deliver Emails to Hotmail, Live, MSN and Outlook?
Outlook.com is putting my legitimate emails into its junk mail folder. What do I do now?
The Microsoft properties (Hotmail, Outlook, MSN. and Live.com) are obeying Yahoo and AOL's DMARC p=reject. That means that whenever an email from someone with a yahoo.com or aol.com address comes for someone with a hotmail.com, outlook.com, msn.com, or live.com account, if that email "from" yahoo.com or aol.com isn't actually sent from a Yahoo or AOL mail server, then it is being rejected (bounced).

So, if you're sending emails from your yahoo.com or aol.com email address, but not using the Yahoo or AOL mail server, change your "From" domain to prevent message rejection by the Microsoft properties.
As it turns out, with any one of Microsoft's email addresses – @live.com, @hotmail.com, @outlook.com and others – you're still really using Outlook.com whether or not you ever visit it on the web.
I've created the following checklist and tips that any marketer or person sending email can follow to help them get delivered to the Inbox. So you can optimize your email delivery system and deliver your emails into the Inbox instead of the Junk email folder.
Use
G-Lock Apps
to discover if you have a deliverability problem and how to fix the problem as quickly and easily as possible to improve your deliverability, and get the maximum conversion rate when you send out an email promotion.
Spam Test Report from G-Lock Apps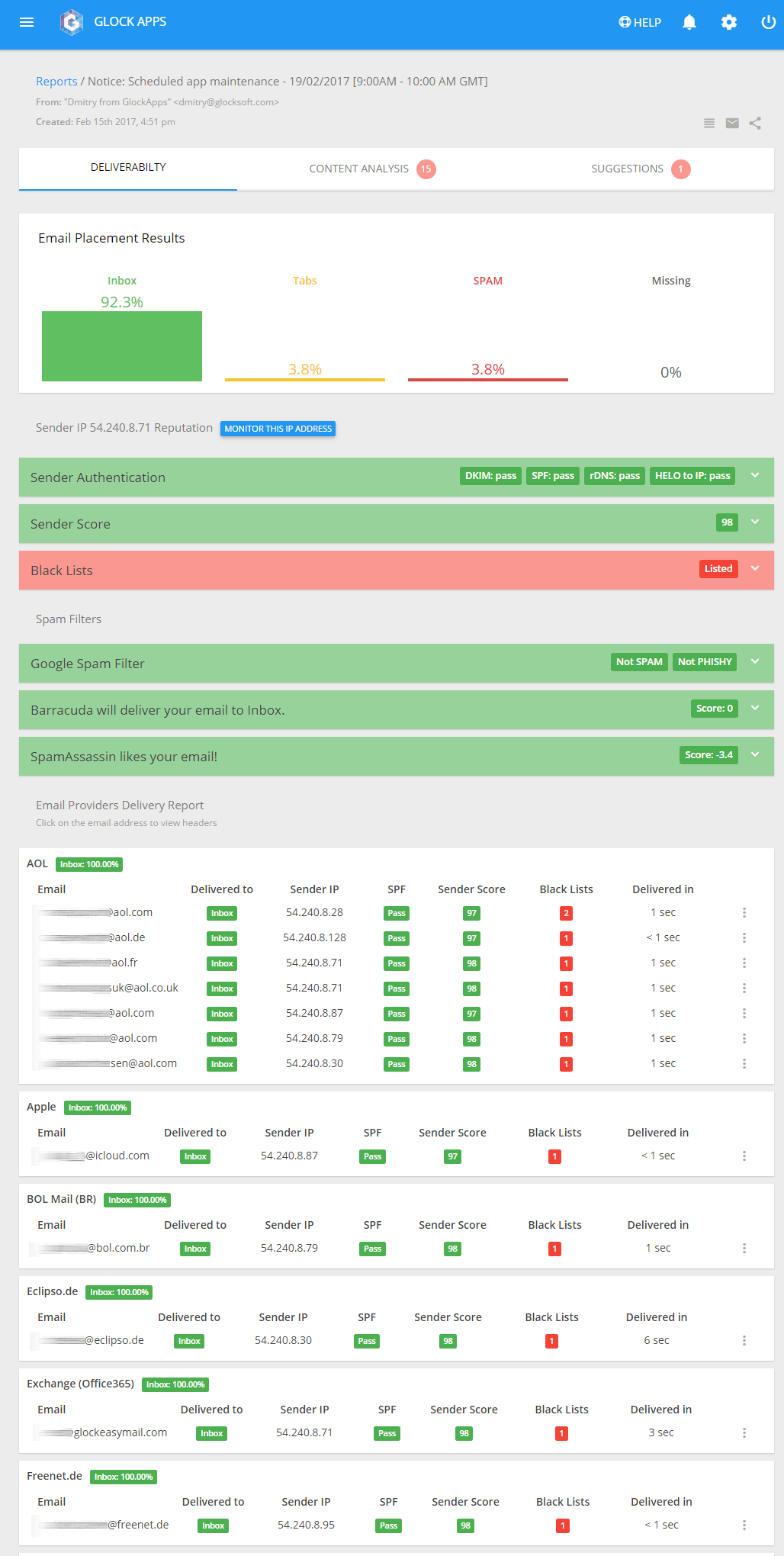 1. Set up SPF and Reverse DNS Records to Authenticate You as a Legitimate Sender.
If you don't have the SPF and reverse DNS records properly setup, it doesn't always mean that your email is deleted or moved to the Junk folder. But it can affect how Hotmail rates your email and how it will treat your subsequent messages. And furthermore, depending on the user's settings and the reason why the email was not authenticated, the message may be labeled as "unknown sender" in the Inbox that is not good for your brand recognition.
Therefore, it's highly recommended that you setup your SPF and reverse DNS records if you don't have them yet before you send your email newsletter to your Hotmail subscribers. In this article you can read more about the sender authentication and how to get your emails delivered.
Example of a sender authentication test report from G-Lock Apps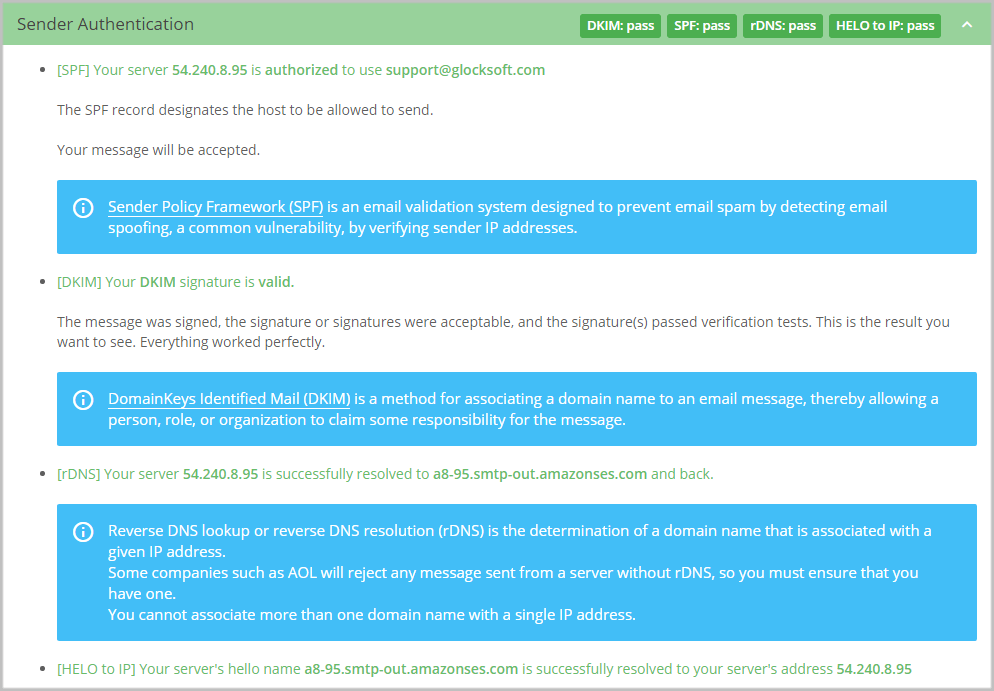 2. Ensure the Links in Your Email Aren't Blacklisted or Inactive.
Check to see if any of your URLs are on URL/domain-based blacklists like URIBL and SURBL. If listed, work to get removed from the blacklist or change the link in your content. On a similar note, ensure all URLs within your content are active and resolve to the proper place. This includes 3rd party URLs, too, like bit.ly and other URL shorteners, and even advertisers.
Check your SpamAssassin report on GlockApps for possible blacklisted and/or inactive URLs/domains.
Example of a SpamAssassin Filter Test from G-Lock Apps

3. Stop Sending to Bad Email Addresses.
If an email returns as a hard bounced, you need to delete it from the list immediately. If an email returns as a soft bounced, you can try several attempts to deliver it. If after a few attempts, the email still bounces, remove it from your list too. If you continue sending to non-deliverable email addresses, your activity may be considered as spamming.
Try EasyMail7 – affordable, self-managed, in-house email marketing software for Windows®. It has a great deal of intelligence built-in, such as bounce handling, feedback loop analysis and automatic suppression lists which can protect your reputation by preventing redelivery to failed or complaining addresses. Download 14-day Free Trial here
4. Sign up for Microsoft's Smart Network Data Services (SNDS).
SNDS will give you the information about the traffic originating from your IP address such as the volume of sent emails and complaint rates. The data is collected from the log files of the inbound Hotmail servers and other servers at Hotmail and Microsoft. This free service will help you identify campaigns resulting in excessive complaints and spam trap hits. You can then use this information to determine the cause of issues and take the appropriate action to correct the problem. You can get your Hotmail and Outlook.com SNDS report here
Example of a SNDS report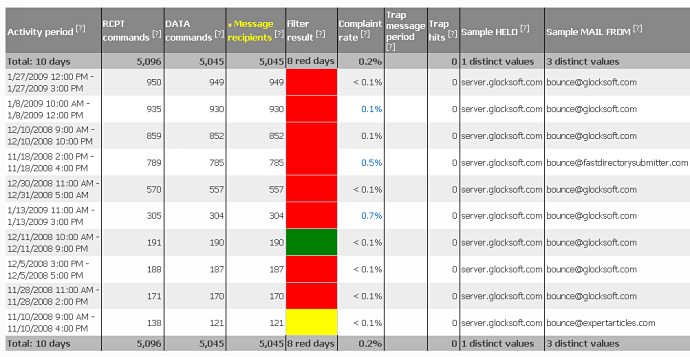 5. Follow Best Email Marketing Practices.
A Outlook account expires if it is not used during six months. After the six month period an email sent to a dead account bounces with the "550 Requested action not taken: mailbox unavailable" error. After one year of disuse, they start using that mailbox as a spam trap.
If a high volume of your email lands in spam traps, your IP address could be blocked.
This is another good reason for legitimate marketers to ensure they follow the best email marketing practices:
Send only to recipients who explicitly subscribed to your emails (no purchased, rented or scraped list).
Send an unsubscribe link, so that the recipient can unsubscribe immediately.
Use consistent sending IP addresses and domains for your email campaigns.
Use a consistent From name and From email address to clearly identify your brand.
Make use of Sender Policy Framework (SPF) and DomainKeys Identified Mail (DKIM) to authenticate your emails.
Publish reverse DNS with your domain to help identify your IP addresses.
Track the temporary and permanent SMTP errors from your mail server and act on them accordingly.
Have a working process of handling bouncing addresses.
Periodically remove inactive subscribers from your list.
Don't reactivate email addresses that are already on your unsubscribe or suppression list.
Firstly, take a closer look at your email collection process. If you are collecting subscribers on your website, you'll want to use a confirmed subscription process. It is the best way to avoid malicious subscriptions, mistyped email addresses and surely spam trap emails.
Secondly, it's now more important than ever to deal with your bounces as soon as possible and maintain a clean mailing list. If a message consistently bounces, remove that email address from your list. If you continue emailing to bad addresses, your IP will end by being blacklisted, and your emails will not be delivered to subscribers. It was just a bad email marketing "etiquette" to send to non-existent emails, but as you see it's self-destructive now.
Cleaning a list from bounced emails is a time consuming and tedious work. Better if you could collect bounces and delete them from your contact database at one go. EasyMail7 has a built-in system to automatically process bounced emails: collect bounces from your email account and delete them from your contact groups.
6. Check Your Brightmail IP Reputation.
Outlook uses the Brightmail anti-spam content filter. The Brightmail technology learns what email is spam from all mail received in their spam trap network. If a high volume of your mail is considered suspicious, your IP address could be blocked or bulked. You can check your Brightmail IP reputation and request block removal here.
7. Send Emails from IPs with a Positive Reputation.
Outlook looks at your sender reputation. No reputation does not mean a good reputation. As a result, mail sent from new IPs is usually filtered into the bulk folder until a positive reputation is observed.
You can regularly check your IP reputation and the various factors causing any decline via senderscore.org. Return Path research has shown that the higher your Sender Score, the better your chances of reaching the Inbox.
8. Keep Your Subscribers Engaged.
Microsoft has stated they look at the following areas of engagement to decide whether or not to send email to the inbox or spam:
– Messages read, then deleted
– Messages deleted without being read
– Messages replied to
– Frequency of receiving and reading a message from a source
Make sure you keep your subscribers engaged by setting the proper expectations up front regarding the type and frequency of emails they will receive from you. Deliver on what you promised, what is relevant to them and what they can easily recognize is coming from you.
9. Get Certified with the Return Path Whitelist.
By having a third party like Return Path accredit your sending practices, Microsoft can deliver your email to the Inbox at Hotmail and Outlook, and with images enabled. Acceptance into the Return Path Certified whitelist will positively impact delivery.
To recap, here is what you should do to deliver your emails to the Inbox:
send to confirmed optin email subscribers;
regularly suppress inactive or disengaged subscribers from your mailing list;
remove addresses that bounce consistently;
honor unsubscribe requests as soon as possible;
have your domain and IP configured properly in DNS;
send from the IP with a positive reputation;
don't send spammy looking emails.
Following these basic rules is a must for any responsible email marketer.
Now it's your turn…
Test Your Deliverability and Spam Score
Within minutes, GlockApps will show you where your email is placed at different ISPs.
At Gmail, you'll see whether your email lands in the Primary, Promotions, Social tab in the Inbox or in the Spam folder.
Plus, GlockApps comprehensive test checks your email for:
– risky content;
– authentication problems;
– blacklisting issues.
…and provides feedback for common ISP and corporate filters.
Read through your report and note what score you received for each spam filter. If a spam filter did not pass we'll explain what's causing the issue.
Identify and fix issues keeping you from the
Inbox
First, send a copy of your email to:
If you need help with troubleshooting information for senders who are having trouble reaching Outlook.com users by email, check out this resource.
Tags: bounced email addresses, hotmail email addresses, hotmail email newsletter, junk email, mailing list management, marketing practices, sender authentication, sender id, spam trap emails